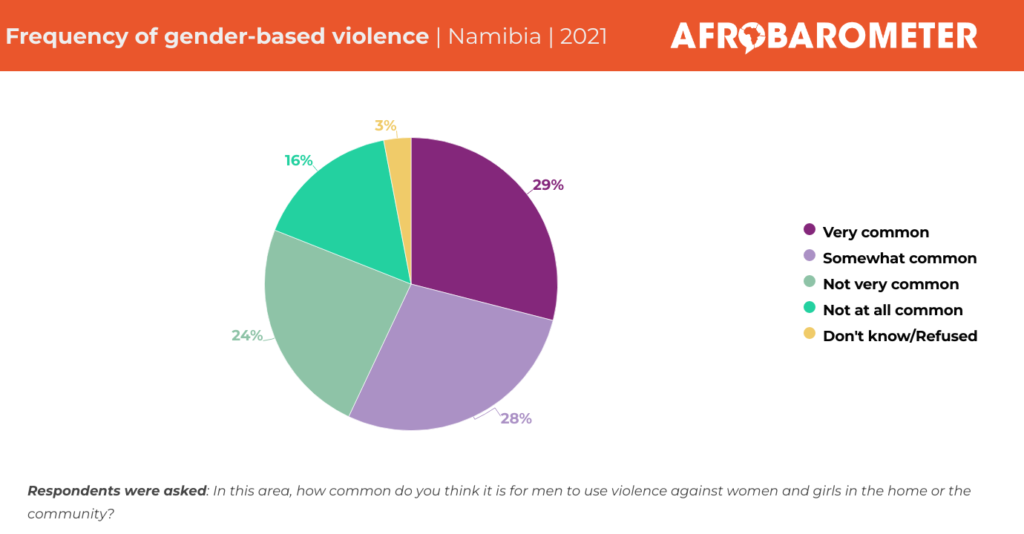 Despite the government's efforts, gender equality remains a goal rather than a reality, and some analysts point to reports of increased GBV during the COVID-19 pandemic as evidence of a "shadow pandemic".
This Afrobarometer dispatch reports on a special survey module included in the Afrobarometer Round 9 (2021/2022) questionnaire to explore Africans' experiences and perceptions of gender- based violence and of gender equality in control over assets, hiring, land ownership, and political leadership.
In Namibia, citizens say that gender-based violence is a common occurrence and constitutes the most important women's-rights issue that the government and the country must address. Most consider GBV a criminal matter and believe that the police take GBV cases seriously.
On women's rights more broadly, strong majorities express support for women's right to equality in hiring, in land ownership, and in political leadership. But sizeable minorities also consider it likely that female candidates might suffer criticism, harassment, or family problems.
Overall, a majority of Namibians approve of the government's performance in promoting equal rights and opportunities for women, although many say greater efforts are needed.
Afrobarometer surveys
Afrobarometer is a pan-African, non-partisan survey research network that provides reliable data on African experiences and evaluations of democracy, governance, and quality of life. Eight survey rounds in up to 39 countries have been completed since 1999. Round 9 surveys (2021/2022) are currently underway. Afrobarometer's national partners conduct face-to-face interviews in the language of the respondent's choice.
The Afrobarometer team in Namibia, led by national partner Survey Warehouse, interviewed a nationally representative sample of 1,200 adult Namibians in October and November 2021. Previous surveys were conducted in Namibia in 1999, 2003, 2006, 2008, 2012, 2014, 2017, and 2019.